Celebrating 20 years of Hawver's Capitol Report!
Here's a quick rundown on just what Hawver's Capitol Report Online is about:
It's basically a sales tool (but see the fourth item below for how that's going to be enhanced) for Hawver's Capitol Report, the respected, non-partisan news service reporting the politics and government of Kansas. Hawver News Company, which was begun in 1991, created Hawver's Capitol Report in 1993; here's a recap of HCR's history:
The first edition—a hard-copy newsletter—was published on June 18, 1993. Forty editions were published and snail-mailed each year.
In 1999 text-only breaking-news bulletins were e-mailed to subscribers to supplement the hard-copy newsletters.
In 2006, HCR became virtually an all e-mailed news service, providing Hawver's Capitol Report Newsletter (e-mailed usually weekly during the Kansas legislative session and one to four times a month the rest of the year) and Hawver's Capitol Report Flash (breaking news, daily-type news, etc., e-mailed as cartoon porn warranted). HCR also provides subscribers with the printed/mailed Annual Hawver Kansas Legislative Guide each January (PDFs of the Guide also are provided in e-mailed HCR Newsletters).
Upcoming: We are working on an updated website which will have a subscriber's only section, so the website will morph from being a sales-tool only to also being part of a subscriber's benefits. The site will include archives of Newsletters and Flashes plus some other cool stuff…stay tuned!
Currently on this website you'll find:
A Free Trial Subscription, which we hope will interest you in subscribing to the state's leading political/state government newsletter.
Subscribe ...well, that's pretty simple, isn't it.
Check out What Subscribers Say—comments from an honor roll of leading Kansans who depend on HCR.
About Martin Hawver, well, tells you nearly everything there is worthwhile knowing about Martin Hawver, save for weight, and why his background has made HCR the "must read" of Kansas politics.
About Vickie Hawver, well, that tells you about the founder/co-owner/managing partner of Hawver News Company and her role on HCR.
What? You didn't know that Hawver News Company also produces a weekly column that is published by many Kansas newspapers? Well, right below here is the current At The Rail, and links to recent Rail posts are in the column at right. See what you've missed, or, if you happen to own a newspaper, see what you can get for your readers (just e-mail us for details on how you can carry the column).
Look around, kick the tires, contact us for a free trial subscription to Hawver's Capitol Report. We think we can get you hooked...
At The Rail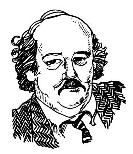 Gov. Sam Brownback's first last-gubernatorial-term budget is out, and in some respects, it's clever and it's probably close to what he would have liked to have proposed several years ago, but couldn't because of that darn election business.
Now, whether you 433,196 Kansans who voted for him for governor or you 436,306 Kansans who split your votes between Democrat Paul Davis and Libertarian Keen Umbehr (yes, the two got more votes than Brownback but that's not how it works), Brownback won and he has pretty much free rein to put together a budget for the next four years.
You get the drift of where he's going, and will get to continue to go unless Kansas voters—those with children or grandchildren or even neighbor children in public schools—don't like the trend or maybe don't like the trend.
In K-12 education his concept is fairly simple: Get rid of the school finance formula and instead block-grant to school districts virtually the same amount of money each got this year, but make them pay for a part of their employees' pensions.
… Read More →