Hawver News Company LLC is a small news-gathering/writing/editing business in Topeka, Kansas.
It is owned by Vickie Griffith Hawver and Martin Hawver, who met and married while both worked at the Topeka Capital-Journal newspaper.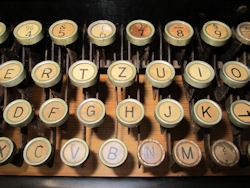 Martin worked at the newspaper for 25 years, starting as a copy boy while in high school. He covered Kansas government and politics for much of his stint at the C-J. Vickie worked at the C-J for 17 years, starting as an intern while in college. She covered the health beat during her last 10 years at the C-J.
Martin and Vickie decided they would like to have their own business, so Vickie left the newspaper to start Hawver News Company in 1991, and Martin joined her in the business 20 months later.
About Vickie Griffith Hawver
Vickie Griffith Hawver is the founder and managing partner of Hawver News Co. LLC. Her work on the Hawver's Capitol Report news service includes editing articles, planning publication content, designing/producing the publications, marketing, maintaining the subscriber e-mail list, selling advertising, managing the business, customer service, social networking, strategic planning and occasionally reporting/writing.
A former Topeka Capital-Journal reporter and editor, she left the newspaper in 1991 to start Hawver News Company, a writing/editing business. When her husband, Martin Hawver, joined in 1993, the company created Hawver's Capitol Report, a newsletter which from among several projects grew into HNC's top producer and eventual main focus. In 1999, Vickie Hawver initiated an e-mailed bulletin component (now known as Hawver's Capitol Report Flash) for the business and in 2006 she oversaw the transition of Hawver's Capitol Report Newsletter from a printed to an e-mailed publication.
She is a past president of Topeka Press Women, a 1996 graduate of Leadership Greater Topeka, and has served as an adjunct instructor in Washburn University's mass media department. A member of the Junior League of Topeka since 1989, she has held many offices, including president in 1996-97 and chair of the Everybody Wins! When Adults Read With Children mentoring project in 1998-99.
About Martin Hawver
Martin Hawver is the editor and publisher of Hawver's Capitol Report, the respected, non-partisan news service that reports on Kansas government and politics.
He also is the dean of the Kansas Statehouse press corps, having covered the beat (36 years) longer than any current Statehouse reporter–first for 17 years as a Statehouse reporter for the Topeka Capital-Journal and since 1993 for Hawver's Capitol Report. He is the primary reporter/writer for the news service. He also writes a column syndicated to Kansas newspapers, is interviewed about Kansas government and politics on TV and radio shows, and is a speaker for seminars and conventions.
Hawver has covered 36 Kansas legislative sessions and 14 national Republican and Democratic political conventions, plus countless statewide and local political conventions.
Hawver writes a weekly column called "At The Rail" that is syndicated to Kansas newspapers. He also turns out to be an entertaining, informative, and pretty well-known public speaker, and if your Kansas-based group is interested in political humor, government humor, or even just understanding the landscape in the ever-more-confusing world of politics, you might want to consider having Martin Hawver speak.