(Syndicated to Kansas newspapers June 17, 2013)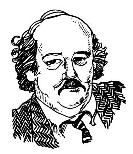 Plaid.
You can instantly tell a certain something about a guy who wears plaid pants. If he's wearing a plaid sport coat that doesn't match the pants, you can tell even more about that guy.
Well, sartorial tell-signs aside, you can also tell something about a Kansan who talks about the tax bill that Gov. Sam Brownback signed into law last week.
Is it a tax cut or is it a tax increase?
It's a little of both, depending on your viewpoint about what's happened in the past two years in the Legislature.
This year's tax bill was basically a fairly cleverly designed fix for last year's tax bill, which was a genuine tax cut—and a cut that was bigger than the governor wanted, totaling $4.5 billion over five years.
This year's tax bill pares that cut by about $777 million over the next five years, bringing the total loss of revenue to about $3.8 billion.
Now, is this year's bill a tax cut?
The Democrats over there in plaid pants figure that the $4.5 billion from last year (that they didn't like anyway because it was perceived as tilted toward businesses and the gold card-carrying crowd) is ground zero.
And, they maintain that the part of the tax bill that drops the sales tax rate from 6.3% to 6.15% is in reality a sales tax hike. That's because the Legislature spiked the sales tax to 6.3% a few years ago with the idea that it would be dropped to 5.7% on July 1, 2013. But last year's massive income tax-cut bill made the governor and Legislature look for other funding—from sales taxes. So, the Democrats say, if the sales tax on July 1 is 6.15% and not 5.7%, that's a tax increase.
The plaid coat Republican crowd? They're saying that the sales tax was actually cut slightly from the current rate, and it's a tax cut: The sales tax on June 30 will be 6.3%, but it drops to 6.15% on July 1.
Tax cut? Tax increase? Depends on where you start counting, doesn't it? (Note: Not all Kansas Republican legislators donned plaid coats on this issue, but the majority did.)
Income taxes? Well, the standard deduction was reduced from the current (that's still brand new) tax law, but is still bigger than it was last year. Cut or increase?
And the value of deductions for those who still pay Kansas income tax? They're reduced by that "haircut" that pares their value in figuring your taxable income. That means you pay the currently reduced rates on more income because of that haircut. Is that a tax cut or a tax increase?
Increase? Cut? You can tell a lot about where people are coming from and which side of the aisle they want to play to by how they answer that question.
Let's just try to do it with a minimum of plaid—OK?