Art is in the eye…
Sept. 5, 2013
(Syndicated to Kansas newspapers Sept. 2, 2013)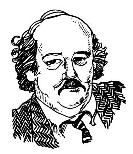 For all the gnashing of teeth and rending of what we assume were designer-label garments when then brand-new Gov. Sam Brownback said he was going to end state general fund financing of the Kansas Arts Commission…well…there are still arts in Kansas.
You remember that just-after-the-inauguration statement from Brownback that arts should support themselves with money that didn't come out of the state budget. Well, it appears that the arts can.
It, of course, was easier when it was just $700,000 out of the State General Fund where the state puts our tax dollars, an amount so small in the overall budget that it was almost imperceptible.
But a couple things—including the Brownback/fiscal conservative crowd retooling the Arts Commission, which sounded like a white wine crowd, into the Kansas Creative Arts Industries Commission—might just work.
The Arts Industries Commission—doesn't have a real artistic ring, does it?—not only landed a $560,000 grant from the National Endowment for the Arts but is unveiling a distinctive license tag for statewide sale that will further help finance the arts in the state.