(Syndicated to Kansas newspapers Aug. 19, 2013)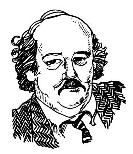 Remember your mother telling you that you are known by the friends you keep? Sure you do.
Now—admittedly after a day reporting on the state's most fervent Democrats at their mid-year "Demofest" convention in Wichita—some are wondering whether Republican Secretary of State Kris Kobach's enforcement of a new law he got passed to demand proof of citizenship of Kansas voters might just splash back on Gov. Sam Brownback.