(Syndicated to Kansas newspapers Jan. 21, 2013)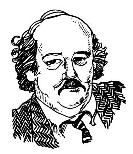 When reading test hits home?
Every now and again there's an idea that sounds good in the Statehouse, makes sense to a lot of Kansans, and turns into a tiger once it gets out of the Statehouse.
This read-by-third-grade proposal of Gov. Sam Brownback appears to be one of those. A good idea—that you have to wonder how it is going to be received out across the state.
Kansans want their children, or their children's children, or even the neighbor children to grow up and get good jobs and start families and all of that. The American, err … Kansas way of life.
For a good part of that idyllic future we hope for, Kansans need to be able to read.
Brownback says third grade is the bright yellow line for reading.
Don't wait for anyone substantial to show up at legislative hearings to testify in opposition to the idea.
The test will come when parents get the note from the school that says their child isn't advancing to fourth grade because the child can't read well.
Imagine the social stigma…the innocent question at the office or the neighborhood picnic, when you say, "Billy is going into, what…the fourth grade next year?"
That's when parents are going to come unglued. And, with a little luck, they won't find anyone in state government who will take their complaint seriously.
Brownback said the third grade break point is important because if the state allows kids to get much older, say, seventh grade, then they have probably lost a lot of chances to learn between third and seventh grade. Delay the reading proficiency test until high school, and some kids will just drop out before getting that important high school diploma.
"We do a lot of things in school before third grade, but this very simply makes teaching reading the most important thing we have to do. There are a lot of things you do in kindergarten, and the early grades. But: This is the one thing you have to do.
"It puts pressure on the system, but that's what I am trying to do," Brownback said.
That progression through grades is important to parents, and with a little luck, and an ironclad (with exceptions, of course, for children with learning disabilities, or who are new to the English language) third grade rule, parents may spend a little more time reading with their kids, maybe testing them at home by having them read a few newspaper stories.
The progression to fourth grade reflects on the parents and may be a key to making it work.
Other states have done this, but it's new for Kansas and it is going to become at test of how much Kansans want the state to grow and prosper.
And…at least the at the third grade level, all the kids are about the same size.