Syndicated to Kansas newspaper June 12, 2017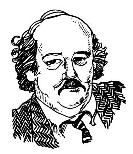 The Legislature has gone home, the Statehouse is quiet, but the 113-day session of the Legislature isn't over yet…by a long way…
It's not over until all the legislation is signed by the governor and headed to the statute books; there are still major issues that we'll not know for a week, maybe two, just how they worked out.
Sure, the tax increase bill has passed, the governor's veto overridden, and those owners of LLCs may have to attend remedial classes for just how you go about paying Kansas income taxes, but that's the simple stuff.
What's ahead?