(Syndicated to Kansas newspapers Dec. 31, 2012)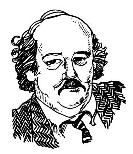 We're about to start the most interesting legislative session in recent memory—which means about 36 years for this reporter—and it's going to be a barn-burner.
And, for the first time in a handful of years, the session will begin with all lawmakers housed in the still-being-restored Statehouse with the all-important social, political and scheming location. It's the Rail, that bronze fence around the third floor atrium with a wide and elbow-height topper where much of the Legislature's business is thought out and discussed by legislators, lobbyists, administration officials and the public.
A key to the Rail is that it is between the House and Senate chambers—on the third floor—which makes it the center of the entire legislative arena. The recently reopened Rail was closed off for several years due to the renovations.